Gronau, Germany: There is a wooden child's bed built like a Viking ship in the winter garden of his office- including a red-white sail, a steering wheel and a horse's head. Everything made by himself. A gleaming mahogany table can be found within his office. It is dark brown and sufficient for more than 20 people. Also restored by himself. Next to the office door you will walk straight into a laboratory where two scientists are busy working with bulbs and an agitating machine. Financed by himself. Gregor Luthe surely was one of those kids whose first word was "himself".
Today, the 46 year old former pupil with learning disorders is the president of Nanobay and sacrificed what other scientists would have received with gratitude. He was a Humboldt fellow, an internationally supported researcher who turned out to be very talented. He worked as a researcher in Berkeley and Iowa. He even became an university professor in Iowa and Hawaii but left it all behind when his father became seriously ill. At that point in time he just wanted to be with him. Therefore, Gregor Luthe fully focused on his job at Saxion University of Applied Sciences in Enschede and founded the faculty of nanotechnology. At the same time and without having a clue about it, he became the most popular professor of the Netherlands and can already look back at a successful career you would not expect from a son of a mason and a factory worker.
Special needs school before being the best in his graduation class
His first steps in the world of knowledge were quite difficult: Due to the fact that he stuttered as a child, he had to move from a secondary school to a special needs school and -thanks to his uncle who was the school principal- finally back to a lower secondary school. However, Gregor Luthe barely passed his classes. Up to the ninth class he was continuously in danger of failing until one of his teachers took him under his wing and taught him to speak correctly. From that moment on he had much more fun at school. In the end, he successfully completed his school leaving with a certificate at a mission school called "Missionsschule der Franziskaner" in Bardel near Bad Bentheim and graduated at the top of his class.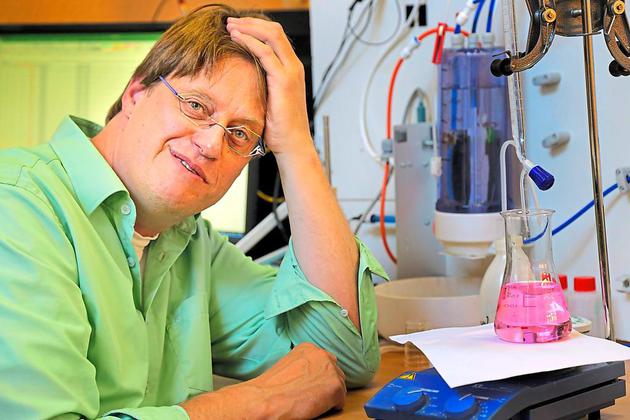 Gregor Luthe: The former stutterer and pupil from a special needs school is a researcher today and prefers to work in Gronau instead of being a professor in Berkeley or Hawaii. Photo: Jürgen Peperhowe
Nevertheless, he decided to put aside his academic career. "I want to find technical solutions to human problems", says Luthe today. One of them are MRSA germs. He says: " in 2040 those will be the second most common cause of death in Germany." They are resistant against antibiotics and especially dangerous for people who often need to be treated in the hospital.
Not only a professor but also an inventor
Luthe's invention: An antibacterial solution which kills the pathogen permanently. This is difficult to explain in layman's terms to most people. The professor describes the effect of his invention like this: They sit on a kind of an electric hotplate and are roasted. No bacterium would like this.
The solution can be mixed into paint for walls in hospitals or could serve as cleaner for medical devices. Luthe is convinced that there is a strong demand for it and that his concept works. The microbiological laboratory Dr. Michael Lohmeyer in Münster is testing his invention right now. The tests are still running and there are no definite results at that time.
Regional blockbuster product
Luthe plans to found a stock corporation "in order to issue shares worldwide". Private individuals and companies would ask for investment possibilities "and see the unique opportunity to build a regional blockbuster product", says the chemist and toxicologist.
Therefore, the father of two kids will continue his research. There are still enough human problems for which technical solutions will need to be found.
Nota Bene: This article is a transcript (by Lisa Feder) from a local German newspaper article. All rights are with the original author.