The Fraunhofer FEP has succeeded in developing a new technology for the production of ultra-smooth polymer films as part of the "OptiPerm" project. This project received funding from the European Union and the Saxony State Ministry of Economics, Labor and Transport (grant agreement no. 3000651169).
The technology, which was previously demonstrated on samples in A4 format, has now been successfully transferred to a roll-to-roll process with even higher surface quality. These results were presented for the first time at the AIMCAL conference in Munich, Germany in June 2018 by Dr. Steffen Günther.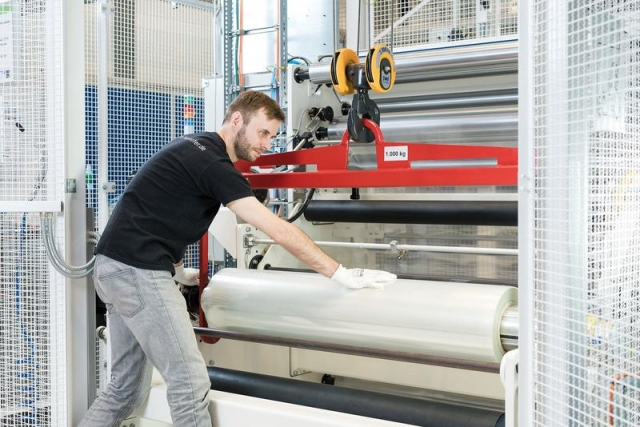 Flexible film substrate of 1.25 meter width at the roll-to-roll coating line "atmoFlex 1250". © Fraunfofer FEP
Smooth surfaces with low defect densities are of great importance for many application areas, be they decoratively coated vehicle bodies, high-gloss and dirt-resistant furniture, or ultra-smooth metal and plastic films that serve as substrates for high-tech industries. Particularly in latter case, subsequent finishing steps can only exhibit their full potential if the surface quality of the substrate is also at a very high level.

For example, films for the encapsulation of electronic components need thin permeation barrier layers made by a vacuum coating process that prevent against penetration of oxygen and moisture. Defects on the substrate surface would compromise these thin coatings.

The deposition of active electronic layers, for example for OLEDs or touch screens, requires ultra-smooth surfaces to ensure reliably capabilities such as light emission and conductivity over large-areas.

Scientists at Fraunhofer FEP have now developed a new method for creating ultra-smooth surfaces – dubbed the smoothing-film approach. "This innovative process does not require any special processing environment and could therefore also be used under standard factory conditions," explains Dr. Steffen Günther, Project Manager at the Fraunhofer FEP. "Expensive clean rooms are not required for this process."

With this new approach, a wet coating is first applied to a flexible substrate. Immediately afterwards, the coating is covered while still wet with a second film, the smoothing film. Subsequently, the wet coating is cross-linked through the smoothing film by an energetic drying process. An electron beam is used therefore at Fraunhofer FEP due to its high performance regarding cross-linking ratio. The smoothing film may be lifted off directly after cross-linking or stay on top the coating as a protection until the next downstream processes take place. In order to reduce the costs for the smoothing films, their reusability was examined. The scientists were able to show that even after reusing the smoothing film ten times, no increase in defect density or decrease of surface quality was observed.

The process was initially carried out and evaluated on samples in A4 format. Subsequent is has been transferred to the roll-to-roll coating line "atmoFlex 1250". This plant was built by the mechanical engineering company 3D-Micromac AG and offers the possibility to coat flexible films of 1.25 meter width in roll-to-roll process at Fraunhofer FEP. The results of the process transfer to roll-to-roll technology even exceeded the expectations by far. Not only was the reproduction of the new smoothing-film approach successful. The test results of the roll-to-roll processed substrates even outperformed those from the A4 samples by a factor of four.

The defect density determined using white-light interferometry was approx. 1%. This corresponds to the defect density of films planarized in expensive clean-room environments.

These positive results can now build the basis for developing further innovative film products with industrial partners. The scientists are already contemplating ways to further improve the technology and also how to transfer it to other areas of application.

This work was partially supported by the European Union and the German State of Saxony within the project OptiPerm (Grant agreement number: 3000651169). OptiPerm is a joint research project with the industrial partners VON ARDENNE GmbH, 3D-Micromac AG, GfE Fremat GmbH and IOT - Innovative Oberflächentechnologien GmbH to do research into the production of functional films with optimized permeation barrier coatings.

Press contact:

Ms. Annett Arnold

Fraunhofer Institute for Organic Electronics, Electron Beam and Plasma Technology FEP
Phone +49 351 2586 333 | This email address is being protected from spambots. You need JavaScript enabled to view it.
Winterbergstraße 28 | 01277 Dresden | Germany | www.fep.fraunhofer.de
Further information: