The Fraunhofer-Institut für Werkstoff- und Strahltechnik IWS developed the novel remote system concept (MuReA) for quick, flexible and efficient laser processing tasks. IWS scientists combined laser remote systems, spindle drives and high performance beam sources with each other. As a result, this novel laser system enables large-scale, flexible and quick processing tasks for materials such as aluminum, stainless steel as well as fiber reinforced polymers. Working areas of up to one square meter can be processed at a laser beam speed of up to 10 meters per second. In particular, the automotive and the aerospace industry will benefit from possible applications.
Fraunhofer IWS engineers developed and designed a novel multi remote system, which is available for basic research tests and for further projects. The combination of height-adjustable high performance scanners with a movable cross table enables the engineers to process complex compounds in a flexible and large-scale manner. The "MuReA" provides laser sources within the kilowatt power range of one micrometer and 10.6 micrometers. The beam sources can be used in a single as well as in a simultaneous mode. In addition, the Fraunhofer IWS Dresden designed the scanner and the machine table control in such a way that also continuous materials such as tissue, metal or organo sheet can be processed. In this way, laser processes such as joining, cutting or ablation can be efficiently developed and be transferred into industrial applications. The spectrum of offers ranges from small series production to system configuration up to the adaption of system components for industrial purposes.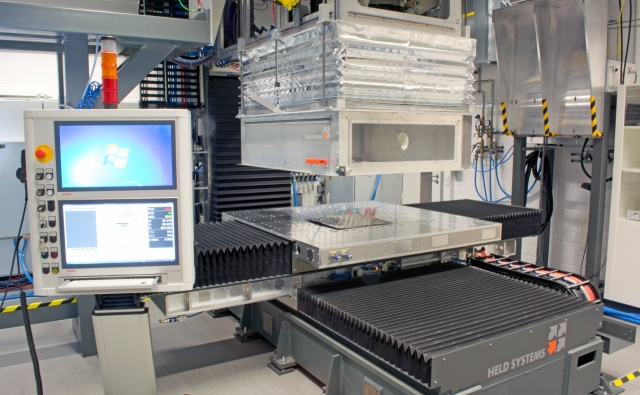 The multi remote system of the Fraunhofer IWS Dresden processes large areas by means of laser radiation and atmospheric pressure plasma. © Fraunhofer IWS Dresden
Consumer demand determines development
The development's backdrop is the increasing demand for more efficient laser systems. Lightweight construction for sheet-like semi-finished products consisting of various materials, requires flexible production and processing technologies. "In particular, automotive and aerospace industries demand machine systems, which achieve processing speeds of up to 100 meters per minute," explains Annett Klotzbach, group manager "Bonding and Composite Technologies" at the Fraunhofer IWS Dresden. "Our solution approach consists of laser remote processes with beam sources, which are adapted to material and absorption properties." Two tiltable mirrors deflect the laser beam to the component and focus it with focal lengths of 200 up to 1000 millimeters. Even very small mirror deflections result in laser spot motion speeds of up to ten meters per second.
Safe, clean and activated
During the process of laser material ablation, cutting or structuring of carbon fiber reinforced polymers (CRFP) or stainless steel, hazardous particles or vapors emerge, which might damage electric as well as mechanical components of the system. This is the reason why the IWS project team optimized the encapsulation of the electronics and additionally implemented a suction chamber. This chamber efficiently removes by-products from a working space (comprising about one cubic meter) and subsequently filters them out by means of particular filtering equipment.
For the task of the adhesive bonding of titanium and aluminum with fiber composite material the IWS team could clearly prove that a laser processing improves adhesive strength and aging stability. In this process the surface is cleaned and the oxide layer is positively influenced. Since a processing with atmospheric pressure plasma chemically activates the surface and improves the adhesion of different materials, the IWS team additionally implemented double rotary nozzles into the system. Thus a sequential and simultaneous material processing by means of plasma and laser becomes possible.

Come and visit us at the "Composites Europe" tradeshow in Stuttgart from September 19 to 21, 2017 in hall 4, booth D40 and at the tradeshow "Schweißen und Schneiden"in Düsseldorf from September 25 to 29, 2017 in hall 15, booth 15D23.

Contact:

Fraunhofer-Institut für Werkstoff- und Strahltechnik IWS Dresden
01277 Dresden, Winterbergstr. 28
Germany

Annett Klotzbach
Phone: +49 351 83391 3235
Fax: +49 351 83391 3300
E-Mail: This email address is being protected from spambots. You need JavaScript enabled to view it.

Public Relations
Dr. Ralf Jäckel
Phone: +49 351 83391-3444
Fax: +49 351 83391-3300
E-Mail: This email address is being protected from spambots. You need JavaScript enabled to view it.
Further information:
https://www.iws.fraunhofer.de/en/pressandmedia/press_releases/2017/press_release...
---