Carinthian Tech Research (CTR) invests €4.5 Mio in research cleanroom for microsensors and systems integration. Carinthian government supports investment in high-tech facilities at the Villach site.
CTR Carinthian Tech Research is on of Austria's largest application-oriented research centres in the area of smart sensors and systems integration. In close cooperation with industry, over 70 researchers work on developing the tiniest microsensors and power electronics as well as their assembly and packaging. An important new addition to the R&D facilities at the Villach site is the recently built research cleanroom, which is now available for microchip research and systems integration.
CTR has invested €2.5 million to date in the building and initial equipment for the research cleanroom covering an area of 300 square metres.Another €2 million is now being spent on purchasing new instruments for the research cleanroom. Subsidised by the European Regional Development Fund (ERDF) and the Carinthian regional government, the latest investment is aimed at strengthening the Austrian microelectronics cluster in Villach.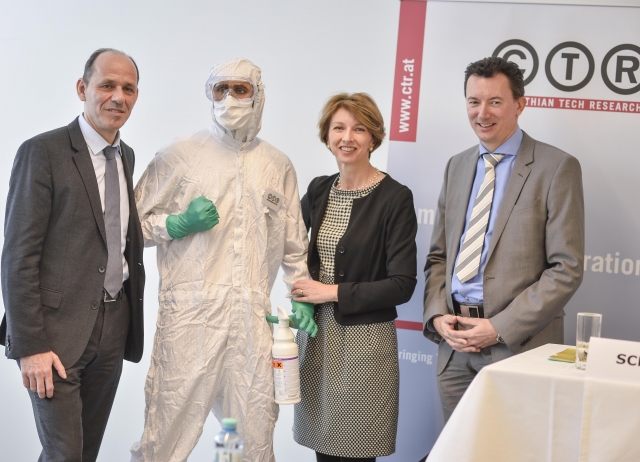 CTR research cleanroom media conference from left: Werner Scherf (CTR), Gaby Schaunig (Deputy Governor of Carinthia), Simon Grasser (CTR) CTR/Helge Bauer
Research cleanroom with excellent facilities
Intelligent sensors and systems integration are the basis for smart products and processes. Systems integration starts at the component or subsystem level and requires special fabrication processes under extremely clean conditions, as even slight contamination can render the entire sensor system worthless. CTR has two research cleanrooms, one classified to ISO 5 and one to ISO 8. The instrumentation, control engineering, media supply, air conditioning and ventilation systems installed and the adjacent support rooms also meet the stringent requirements for building services. This investment in high-tech facilities will firstly help the researchers to examine the production of test structures and their characterisation at chip level and secondly enable special assembly, packaging and 3D printing processes. The special equipment assists the research team in developing and analysing various components, fabrication technologies, material combinations and their interaction. Developing prototypes then advances smart integration in a functional overall system.
CTR research cleanroom – facts & figures
Total area of research cleanroom: 300 m² (EN ISO 14644-1)
Cleanliness classes: ISO Class 5 and ISO Class 8
Research focus:

a) Microsystem technologies
MEMS/MOEMS micro-opto-electro-mechanical systems, test structures, semiconductor processes
b) Housing and heterogeneous integration technologies
Assembly and packaging, 3D printing technologies

Applications: smart production, Internet of Things, medical technology, Industry 4.0, environmental and mobility solutions
Total investment volume: €4.5 million
Equipment grant from Carinthian government & ERDF: ~ €2 million
Research for smart products and processes
The state-of-the-art equipment in the research cleanrooms will enable tiny, smart microelectronic components and modules to be built and integrated in applications. These results have the potential to improve our everyday lives– in cars, mobile phones, medical devices, household appliances or processes for manufacturing, food sensors, mechanical engineering, environmental systems and energy technologies. In all these areas, the progress in systems integration is one of the main innovation drivers. Its expertise in the field means CTR is in demand as a research partner at a regional, national and international level. Further investment in cutting-edge technology will make research and development collaboration even more attractive for industrial partners in the future.
Effects for industrial partners and location
Given its know-how and state-of-the-art facilities, CTR can support companies and research partners in moving forward with their innovation projects. Carinthia as an innovation cluster also benefits in many different ways:
The research infrastructure available provides companies and start-ups with easy, cost-effective access to in-depth expertise, excellent facilities and international knowledge networks. Carinthia's image as a centre for innovation is enhanced, making it more attractive for new businesses.

State-of-the-art facilities as a basis for international cooperation projects strengthens networks and synergy exploitation with the research centre's scientific and industrial partners at a regional and international level, thus increasing Villach's and Carinthia's visibility throughout Europe. Collaboration with Klagenfurt University and Carinthia University of Applied Sciences is being prepared.
Technological expertise creates and secures jobs and improves qualifications in the region. On the one hand, highly qualified researchers are required in the CTR laboratories and on the other they are used by young scientists working on theses and dissertations.

These effects make the region more competitive and consequently increase value added in Carinthia as a whole.
Responses to investment in the research cleanroom equipment:
Gaby Schaunig (Deputy Governor of Carinthia, councillor for finance and technology):

"Promoting research of the highest level is a must if we are to become established in the face of global competition among regions and improve local capacity for innovation both for research partners and Carinthia as an innovation cluster. These are ideal conditions for a proactive approach to Silicon Austria. I therefore feel sure that this investment will soon spawn further innovations, achieve economic success, create jobs and increase international visibility."

Werner Scherf (Chief Executive Officer at CTR):

"The opportunity to take technological developments in the research cleanroom to the pilot and pre-production stage makes research and development cooperation even more attractive for many industrial partners. They can then explore their products' miniaturisation potential, enclose instruments and control technology in increasingly small spaces and integrate microsensor systems as efficiently as possible."

Simon Grasser (Chief Financial Officer at CTR):

"To succeed in the international marketplace, we need excellent know-how and appropriate state-of-the-art facilities. The fact that scientific partners and companies using them, above all SMEs, can exploit the synergy created enables them to take part in national and international research programmes, thus bringing national and international funding to Carinthia and increasing Carinthia's research ratio."
About CTR Carinthian Tech Research
CTR is the largest non-academic research centre in Carinthia and ranks among Austria's leading research institutes in the area of smart sensors and systems integration. Its task and objective is to develop innovative sensor technologies (photonic, sensor, micro and nano systems as well as assembly, packaging and integration technologies) for industry and to integrate them in concrete applications. CTR research will therefore play a role in meeting society's great challenges, such as energy, mobility, health, climate and security. Services range from feasibility studies, simulations and tests to prototyping and system design. Established in 1997, CTR has filed over 80 patents and conducts research in regional, national and international projects. Research partners include ABB, AT&S, AVL List, Infineon Technologies, Lam Research, EPCOS, Philips Austria, Siemens, TIPS Messtechnik, the European Space Agency (ESA), Vienna University of Technology, Carinthia University of Applied Sciences, Klagenfurt University and Lausanne EPFL.
---
Weitere Informationen:
http://www.ctr.at/en/newspressvideos/press-releases.html
---