Details

Written by

Fraunhofer-Institut für Werkstoff- und Strahltechnik IWS

Category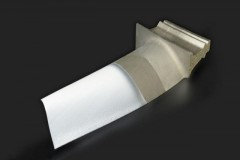 Environmentally friendly: IWS Dresden ceramic coatings can reduce engine exhaust gases

To make aircrafts more economical, environmentally friendly and robust, Fraunhofer engineers from Dresden have developed a new ceramic heat shield technology. In this process, a powder of yttrium-stabilized zirconium oxide (YSZ) is added to water to form a suspension. Quickly and cost-effectively this liquid powder mixture can be sprayed onto turbine blades or other aircraft parts. Such and similar thermal barrier coatings (TBCs) facilitate aircraft engines, which consume less fuel and do not contaminate the atmosphere as much.