Johannes Gutenberg-Universität Mainz

Written by

Johannes Gutenberg-Universität Mainz

Categories:: Physics / Material Information Technology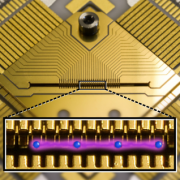 A future quantum computer, using "quantum bits" or qubits, might be able to solve problems which are not tractable for classical computers. Scientists are currently struggling to build devices with more than a few qubits, with the challenge arising that the qubits mutually hamper each other's proper operation. Researchers led by Professor Ferdinand Schmidt-Kaler und Dr. Ulrich Poschinger at Johannes Gutenberg University Mainz (JGU) in Germany have now demonstrated the operation of a four-qubit register comprised of atomic ions trapped in microchip trap. The work by Kaufmann and coworkers appeared in the high rank international journal Physical Review Letters 119, 150503.

Feed Entries