Details

Written by

Empa - Eidgenössische Materialprüfungs- und Forschungsanstalt

Category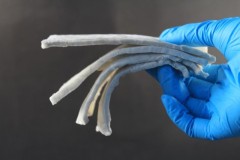 Empa researchers have succeeded in applying aerogels to microelectronics: Aerogels based on cellulose nanofibers can effectively shield electromagnetic radiation over a wide frequency range – and they are unrivalled in terms of weight.
Electric motors and electronic devices generate electromagnetic fields that sometimes have to be shielded in order not to affect neighboring electronic components or the transmission of signals. High-frequency electromagnetic fields can only be shielded with conductive shells that are closed on all sides. Often thin metal sheets or metallized foils are used for this purpose. However, for many applications such a shield is too heavy or too poorly adaptable to the given geometry. The ideal solution would be a light, flexible and durable material with extremely high shielding effectiveness.