Details

Written by

Heinrich-Heine-Universität Düsseldorf

Category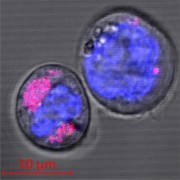 Publication in Scientific Reports

Carbon nanoparticles are a promising tool for biomedical applications, for example for targeted transportation of biologically active compounds into cells. A team of researchers from the Physics, Medicine and Chemistry departments at Heinrich Heine University Düsseldorf (HHU) has now examined whether these particles are potentially dangerous for the organism and how cells cope with them once they have been incorporated. The findings of the interdisciplinary study have just been published in the journal Scientific Reports.