Max-Planck-Institut für Biochemie

Written by

Max-Planck-Institut für Biochemie

Categories:: Bio / Health Environment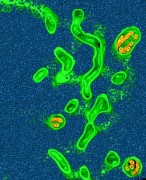 Plants and algae use the enzyme Rubisco to fix carbon dioxide, removing it from the atmosphere and converting it into biomass. Algae have figured out a way to increase the efficiency of carbon fixation. They gather most of their Rubisco into a ball-shaped microcompartment called the pyrenoid, which they flood with a high local concentration of carbon dioxide. A team of scientists at Princeton University, the Carnegie Institution for Science, Stanford University and the Max Plank Institute of Biochemistry have unravelled the mysteries of how the pyrenoid is assembled. These insights can help to engineer crops that remove more carbon dioxide from the atmosphere while producing more food.

Feed Entries