We are delighted to share with you the introduction video of the InNoPlastic project.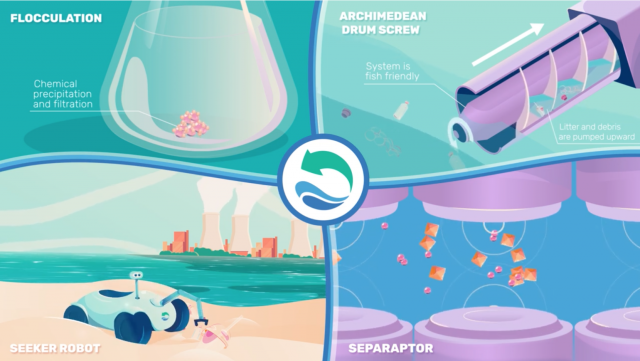 This info-animation showcases in a simplified and captivating fashion all the innovative solutions in progress to clean natural and industrial sites, securing a second life to marine plastic debris in line with the European Strategy for Plastics in a Circular Economy.
InNoPlastic is funded under the framework programme H2020 "Pilot action for the removal of marine plastics and litter", Topic ID: CE-FNR-09-2020 under the Grant Agreement 101000612
You can find the video:
If you prefer to read the text:
We are surrounded by plastic litter. It is difficult to avoid. It is a global catastrophe plaguing our everyday life. Even without noticing, we constantly generate plastic waste daily.
Within the European Union, hundreds of thousands of tonnes of plastics enter the oceans every year, accumulating in hotspots that poison plants, animals and us.
A vital issue is size. While some of these plastics are big enough to locate and remove easily, others are so tiny that they are barely manageable. These micro and nano plastics can get into our marine food chain, causing potential health concerns. It is estimated that we may be ingesting the equivalent of a credit card every week! Additionally, each size requires customized solutions, complicating matters and raising costs.
Moreover, the plastics industry is an essential part of the European economy which makes it urgent to rethink and innovate towards mitigating its negative impact in the world.
Thus, born is the solution, In-No-Plastic! A research project encompassing renowned experts having global pedigree.
First, In-No-Plastic directly tackles the driving factor of this crisis: ourselves. To help us with this, experts at In-No-Plastic have designed an app to change our habits, which rewards us every time we collect litter!
On the other hand, this project will develop technology to remove plastic from our marine ecosystems and industrial waters. Each clean-up tool focuses on plastics of a specific size, making the cleaning process more efficient in terms of time, environmental impact and cost.
In-No-Plastic plants the seeds for a local and global blue economy: all the collected plastic will be properly processed according to the circular economy principles, transforming litter into new usable materials and energy.
These solutions will be tested in different locations around the world to show the huge potential of this project.Because plastics are shaping our present…it is for us to decide how to determine our future.