Warning
: DOMDocument::loadXML(): Opening and ending tag mismatch: hr line 5 and body in Entity, line: 6 in
/var/www/nanobay/Webroot/administrator/components/com_virtuemart/plugins/currency_converter/convertECB.php
on line
144
Warning
: DOMDocument::loadXML(): Opening and ending tag mismatch: body line 3 and html in Entity, line: 7 in
/var/www/nanobay/Webroot/administrator/components/com_virtuemart/plugins/currency_converter/convertECB.php
on line
144
Warning
: DOMDocument::loadXML(): Premature end of data in tag html line 1 in Entity, line: 8 in
/var/www/nanobay/Webroot/administrator/components/com_virtuemart/plugins/currency_converter/convertECB.php
on line
144
B-1200 boron doped spin on glass
B-1200 boron doped spin on glass
Utilized for P type diffusion for:
MEMS etch stop
diodes P+ layer
solar cells P+ layer
transistors for base or for source drain applications
Re-flow glass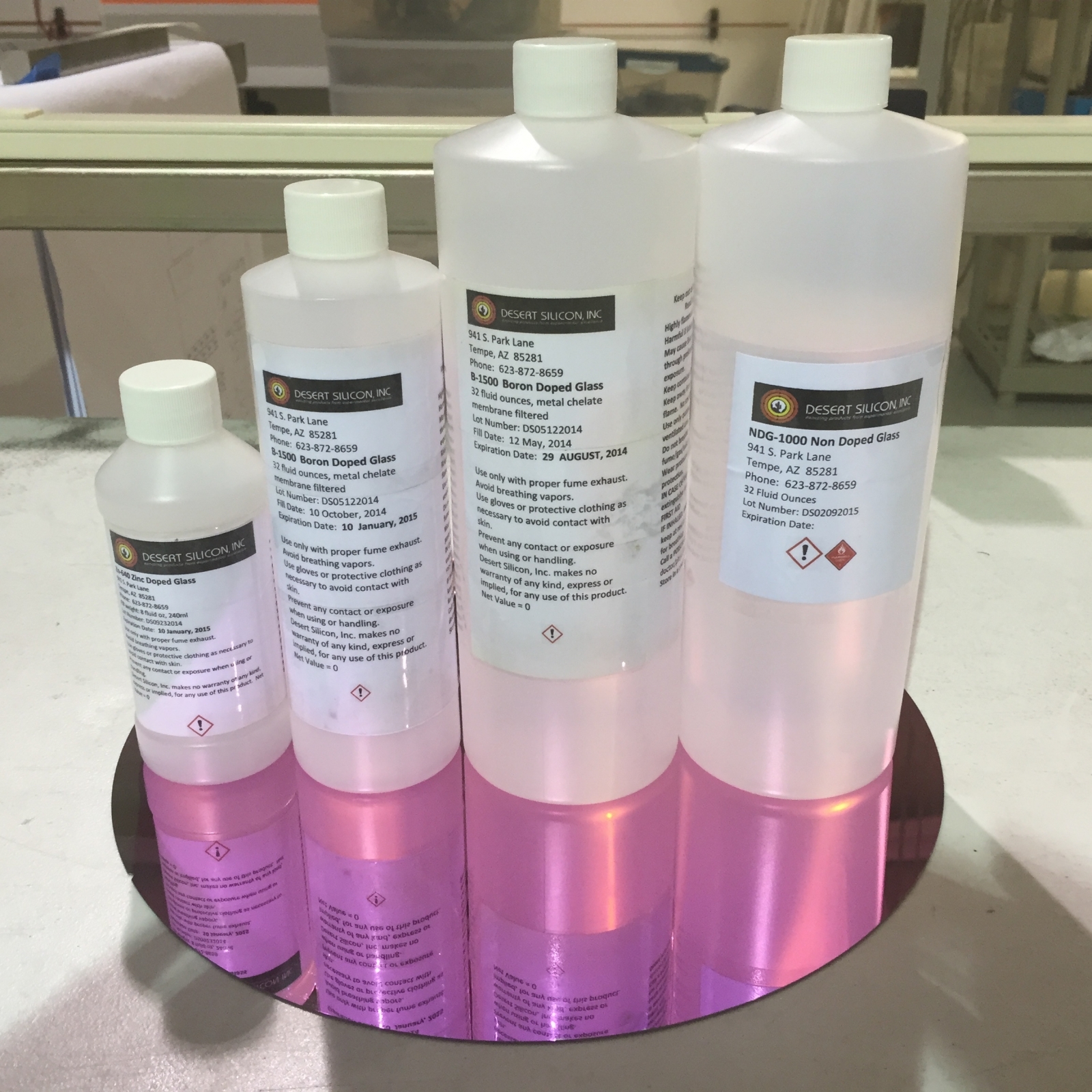 Sales price without tax
600,00 €
Price / COM_VIRTUEMART_UNIT_SYMBOL_:
Description
B-1200 boron doped spin on glass benefits:
Medium boron doping level
Uniform Coatings
Only one drive in tube required
Lower melting point than silica alone
Lower maintenance and cost of ownership
Stable processing
High purity materials
Available with impurity specification in the low ppb range.
Typical Application- This is a standard silicate boron doped glass very
typical for semiconductor applications.
Typical curing at 150° -200°C
Gives a low density but solid film.
Continues to become increasingly dense as temperature increases to 650°C
or higher. We recommend baking at the highest temperature the material will see in any post processing if the material is to remain with the part.
For doping applications the glass is often removed after drive in.
The boron in glass form is easier to process through than solid source and other processes.
Packaging:
8 oz (240ml)
16 oz (480ml
Larger sizes available for
higher volume applications
Alternative Products
B-1500
B-1000
Alternate P-Type Elements Available
-Al
- Ga
- In
-Blends of two or more elements are available
Listed above are typical Silicon doping
Other elements are available for compound semiconductor doping.
Elements of Interest
Si,O , B
Key Element atoms/cm3 B, 9.4E+21
Key Element in Film: Boron
Viscosity: 1.2 cps
Thickness: Coats 4000Å at 3000 rpm
Shelf Life: 20°C 3 months; 4°C 9 months
Order from:
Desert Silicon, Inc.
941 S. Park Lane
Tempe, Arizona 85281
Phone: (623) 872-8659
Email:
This email address is being protected from spambots. You need JavaScript enabled to view it.
Website: www.desertsilicon.com
Enduring Efficiency Through Process, Properties, and Materials
Please see SDS for information regarding health and safety of material use.
Although all statements and information presented are believed to be accurate and reliable, they are presented without warranty or guarantee of any kind, express or implied. Information presented does not relieve the end user from carrying out their own tests to determine suitability for use in their application. User assumes all risk and liability for product use or information and results obtained. Suggestions for use of material and processes are made without representation or warranty that any such is free from patent
infringement and are not recommendations for patent infringement.
Reviews
There are yet no reviews for this product.