Silver nanopowder Ag 100 nm
SILVER NANOPOWDER; chemical formula: Ag. The nanopowder is produced by the electric explosion of wire method in argon atmosphere and packed in glass ampoules in inert atmosphere.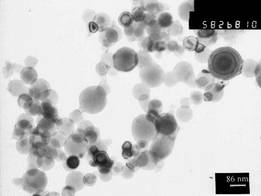 Sales price without tax
1,00 €
Price / COM_VIRTUEMART_UNIT_SYMBOL_:
Description
Nr: MAG-100-999
Average size:
100 nm
25 g
Bulk density:
about 5.8 g/cm³
100 g
Specific surface area:
6.5 m²/g
500 g
Particle shape:
spherical
1 kg
Appearance and color:
gray powder
Warning
Packaging: powder in PE bottle
CHEMICAL COMPOSITION
Material consists of 99,99% metal silver. Adsorbed gases (CH4, CO2, Ar, N2)- 0,01%.
PHYSICAL AND CHEMICAL PROPERTIES
Grey powder. The average particle size is approx. 100 nm. Single particles have the average size of 70-150 nanometers and form microagglomerates. Bulk density is approx. 5.8 g/cm³. Under mechanical impact (vibration, etc.), bulk density can increase. Specific surface measured by the BET method is 6.5 m2/g. The powder is a fully crystalline silver. When heated in inert atmosphere, silver powder releases excess energy the origin of which is still unknown. The melting point is 960 °С.
DANGER
Silver powder is an odious dust. Produces a harmful effect when in the human body. Neutral to environment, does not require any special precautions.
HEALTH HAZARD
Characterized by low toxicity. Toxic dose is 60 mg. Fatal dose is 1.3-6.2 g.
SAFE HANDLING
Use respirators when handling the powder. Sanitary and hygienic regulations must be observed. In case of skin contamination, wash the skin with soap.
Supplier
Display Supplier in Cart / Invoice
Reviews
There are yet no reviews for this product.