On November 09th, 2016, already for the third time, the Laser Zentrum Hannover e.V. (LZH) and NiedersachsenMetall invited small and medium-sized enterprises (SMEs) to attend the Innovation Day Laser Technology at LZH. About 100 guests informed themselves about the state-of-the-art as well as the application and market potential of the focus topic "Laser Additive Manufacturing". "Are we ready for implementing Industry 4.0?", asked Dr. Volker Schmidt, CEO of NiedersachsenMetall and Chairman of the Industrial Board of the LZH, the audience at the beginning. With regard to the innovation potentials and new markets, he emphasized the high importance of digitalization. "What is the future of work in the age of digitalization?", opened Ingelore Hering from the Lower Saxony Ministry for Economics, Labour and Transport her welcome speech with a question, too. "Only all stakeholders together can find sustainable answers to this challenge. For example here today."

Flexibly generating and repairing macro parts
Afterwards, Dr.-Ing. Jörg Hermsdorf of the LZH demonstrated how laser deposition welding can generate and repair complex structures in a short time. Dr.-Ing. Florian Wagner of the Gall & Seitz Systems GmbH impressed with mobile repair systems for parts that cannot be dismantled. With these systems for example the drive shaft of a rope drum can be repaired by mobile laser powder deposition welding. The process-technical advantages explained Mitja Schimek of the eifeler Lasertechnik GmbH: low heat input, high precision and a wide range of suitable materials.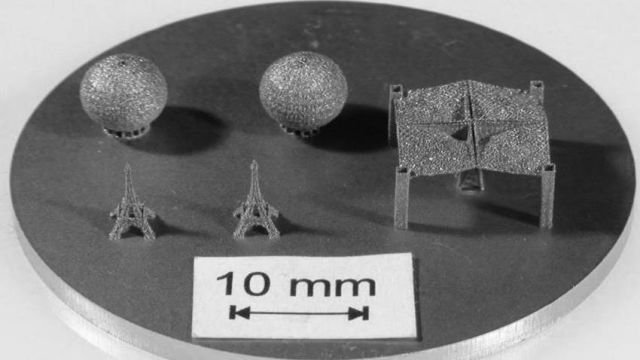 Additive manufacturing at the micro scale using Selective Laser Melting. LZH

Additive manufacturing for highest surface qualities
How Selective Laser Melting (SLM®) creates top surface qualities at the micro and macro scale presented LZH Head of Department Stefan Kaierle among other things. Bastian Lippert from the Institut für Produktentwicklung und Gerätebau (IPeG) added that weight savings of up to 40 % can be achieved with novel 3D construction models for SLM.

Market for 3D printing is still growing
"The market for industrial solutions for additive manufacturing has grown by 40 % each in the past three years", said Frank Nachtigall of the TRUMPF Laser- und Systemtechnik GmbH & Co. KG about the market development. "And for the coming years, we expect a strong growth, too". Professor Roland Lachmayer from the Institut für Produktentwicklung und Gerätebau (IPeG) is convinced that: "If I wonder if I could also have made the part by additive manufacturing after I finished it, I have missed 90 % of the opportunities."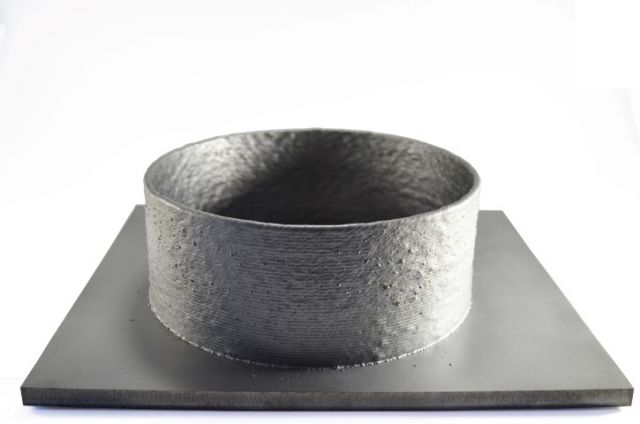 Laser-additive manufacturing by deposition welding can generate macro parts at high process speeds – for example for prototype construction. LZH

Big Data provide sales forecasts for the digital factory
How the design of a digital factory might look in the future was presented by Dr.-Ing. Malte Stonis of the Institut für Integrierte Produktion Hannover gGmbH (IPH). "A network of digital models, methods and tools forms the basis for a self-organized production that restructures itself automatically according to the order situation. The order forecast is calculated by an algorithm using search engine data."

No innovation without skilled employees
Technical progress and market growth require sufficiently skilled employees. Worldwide almost a third of those companies who could use 3D printing are hesitating to do this, because they believe they lack the expertise. To fulfill the demand for qualified staff, recently the LZH Laser Akademie GmbH, together with the Schweißtechnische Lehr- und Versuchsanstalt (SLV) Hannover, was nationwide the first to launch the seminar "Additive Manufacturing Specialist" that has been certified by the DVS (German Welding Society).

Laser technology as a key to Industry 4.0
"Additive processes combined with laser technology are an optimum basis for merging innovative manufacturing and modern information and communication technologies", summarizes Dr. Dietmar Kracht, Executive Director of the LZH. "Being an industry-oriented research institute, we will continue to actively further develop laser-additive processes in order to strengthen the competitiveness of the industry in Lower Saxony and beyond".
---