Many of today's products and production processes are created, tested and optimized in the digital world. But until recently, owing to their complexity, this was not true for factories. Now, researchers from Siemens Corporate Technology (CT) have developed a tool that visualizes production facilities in 3D – a development that, by making processes transparent, helps to avoid expensive planning errors. About one year ago, CT researchers presented their visualization concept at Siemens' Digitalization Day. That's when they encountered Philipp Bierschneider from the Digital Factory Division, which is located in Amberg, Germany.
Bierschneider, who provides support for modifications to production locations, heads a team that optimizes conversions from digital models to bricks and mortar. His meeting with the CT researchers quickly sparked an idea. And things didn't stop there. The two groups soon became involved in a pilot project and have since developed a 3D "digital twin" representing an entire hall of Siemens' electronics factory in Amberg. The researchers call their vision "Scan to Cloud to Mobile," and it is now moving closer and closer to reality. Their project revolutionizes how buildings are planned and equipped. Here's how: Researchers generate a virtual image of a building and its equipment with a laser scanner, process the data at low cost in the cloud, and visualize it on a smartphone or tablet.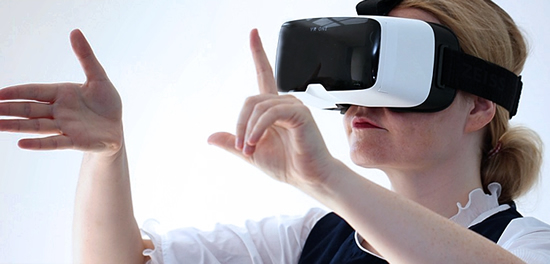 Special 3D glasses allow the user to immerse into the three dimensional interior design of a virtual model of a production facility.

Researchers expect that it will soon be possible to populate virtual factories with virtual equipment and to even perform virtual commissioning before anything is built or installed in the real world. Thanks to this technology, it will soon be possible to use a 3D twin of a planned or existing building to optimize the placement of every piece of equipment in a factory as early as the planning phase. This will not only save time, but preemptively eliminate planning errors. "Such errors show up as late as construction or conversion," explains Bierschneider. "It's curious, actually. Products and production processes today often already have a digital twin, but spaces in factory halls are still being measured by hand. This can sometimes take days, and it's often incorrect."

Interfering Elements above Head-level
Quite simply, everything located at height is omitted in a two-dimensional display: for example, pillars, windows, and supply lines. As a result, a machine may not fit in the planned space because there is a supply line above it or the transport path is obstructed. It also frequently happens that a window is no longer accessible, or the walking distance between two workplaces is too long. With the digital twin, planners have a virtual view of all equipment and can always find the perfect arrangement for machines and furnishings and fixtures – thanks to the third dimension.

"In the future, we expect that smartphones will have sufficient computing capacity to be able to display this data," says Rebecca Johnson from CT. "With the Siemens DF PL software Process Simulate, we intend to compress the data into a CAD version." That would make just about everything possible, from virtual tours around rooms, navigation in buildings, and evacuation planning to 3D planning comparisons with CAD models. Plans for the future envision users being able to shift objects with a laser pointer until everything fits perfectly, while walking through rooms virtually using 3D glasses. They will be able to move freely around the digital factory hall. The display will react to the planner's head movements in real time.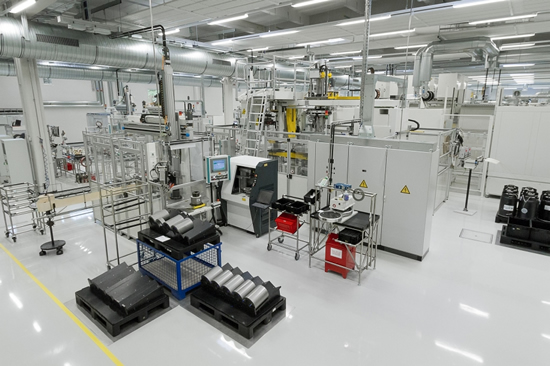 The virtual 3D data can be used to organize facility areas and production equipment in the optimal configuration.

The Digital Room as a Playground for Creative Minds
It will soon also be possible to compute work paths. Today production paths are often inefficient, which means that employees have to move around an obstacle. Production planning could be spatially optimized so that it fits seamlessly into the virtual production planning of the digital factory. "The list of possible applications is even longer," Rebecca Johnson enthuses."In the future, creative minds can try out their ideas using the digital twin in any room imaginable." It will even be possible to use objects that don't even exist yet, but are themselves still just a 3D design.

Contact:
Mr. Dr Norbert Aschenbrenner
Editorial Office
Siemens AG
Diese E-Mail-Adresse ist vor Spambots geschützt! Zur Anzeige muss JavaScript eingeschaltet sein!

Original Internet Article:
https://www.siemens.com/innovation/en/home/pictures-of-the-future/industry-and-a...
---