Forschungszentrum Jülich

Geschrieben von

Forschungszentrum Jülich

Categories:: Chemie Informationstechnik Physik / Material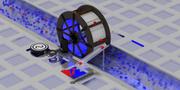 New Technique Removes Quasiparticles from Superconducting Quantum Circuits - An international team of scientists has succeeded in making further improvements to the lifetime of superconducting quantum circuits. An important prerequisite for the realization of high-performance quantum computers is that the stored data should remain intact for as long as possible. The researchers, including Jülich physicist Dr. Gianluigi Catelani, have developed and tested a technique that removes unpaired electrons from the circuits. These are known to shorten the qubit lifetime (to be published online by the journal Science today.