The National Nanotechnology Coordination Office (NNCO) will hold the next in its series of free webinars for the K–12 community to share approaches and best practices for teaching nano and emerging technologies on Tuesday, October 4, 2016, from 7-8 PM EDT.
Kids play with molecules © Nano.govAre you using nano and emerging technologies to excite your students about STEM? Would you like to? By teaching nanotechnology now, teachers are preparing students for the future. These technologies provide cool examples like invisibility cloaks and gecko-inspired climbing gloves to excite students, and are already impacting broad industry sectors such as electronics, textiles, aerospace, biotechnology, medicine, and clean energy.
If you are interested in joining a network of teachers (K-12) who are using or want to use nano and other emerging technologies to inspire their students, email Diese E-Mail-Adresse ist vor Spambots geschützt! Zur Anzeige muss JavaScript eingeschaltet sein!.
The network connects teachers so they can: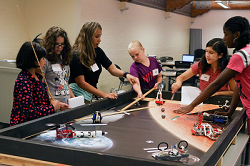 Teacher and students © Nano.gov
Facilitate access to classroom-ready resources,
Share best practices,
Exchange ideas for activities and examples,
Promote local area events, and
Connect with like-minded teachers from across the country.
Resources
Nano Education Resources: This portal features many of the resources that have been developed to help teach nanotechnology. Teachers can filter responses by resource source, core discipline, grade, resource type, if it addresses a Big Idea in Nanoscience, and if it is inquiry learning based.
SENIC Education Resources: The Southeastern Nanotechnology Infrastructure Corridor has created a list of nanotechnology outreach demonstrations and a resource guide for educators.
You can find additional, useful resources for teachers on the For K-12 Teachers and the For K-12 Students pages.
The Teaching Nano & Emerging Technologies Webinar Series
The Network has launched a series of webinars for K-12 teachers in order for the community to share approaches and best practices.
An archive of the webinars will be available for viewing on NanoTube, the National Nanotechnology Initiative's YouTube channel.
Overview:
"An Introduction to Remotely Accessible Instruments for Nanotechnology," is a free webinar presented on Tuesday, October 4, at 7 pm EDT. Representatives from the Center for Nanotechnology Education and Utilization, Seattle's Hub for Industry-driven Nanotechnology Education, and Maricopa Advanced Technology Education Center will discuss a fascinating way of engaging your middle and secondary students in the world of nanotechnology. Live from your classroom, you can directly connect to and operate nanotechnology equipment such as Scanning Electron and Atomic Force microscopes. There is no charge and you can even have your own students send in samples and operate the machines.
Speakers:
Robert K. Ehrmann, Managing Director at Penn State University Center for Nanotechnology Education and Utilization
Kristine Schroeder, Co-PI and Interim Center Director, Seattle's Hub for Industry-driven Nanotechnology Education
Michael Lesiecki, Executive Director Maricopa Advanced Technology Education Center
Format:
The webinar will be presented live through AdobeConnect. Following a brief introduction, the speakers will introduce NACK and RAIN, share the experience of teachers who have used remote access, take the audience through the sign-up process for RAIN, and then the audience will view a live remote access session. The webinar will conclude with questions from the audience.
National Nanotechnology Initiative (NNI)
The NNI is a U.S. Government research and development (R&D) initiative involving the nanotechnology-related activities of 20 departments and independent agencies. The United States set the pace for nanotechnology innovation worldwide with the advent of the NNI in 2000. The NNI today consists of the individual and cooperative nanotechnology-related activities of Federal agencies with a range of research and regulatory roles and responsibilities. Funding support for nanotechnology R&D stems directly from NNI member agencies, not the NNI. As an interagency effort, the NNI informs and influences the Federal budget and planning processes through its member agencies and through the National Science and Technology Council (NSTC). The NNI brings together the expertise needed to advance this broad and complex field—creating a framework for shared goals, priorities, and strategies that helps each participating Federal agency leverage the resources of all participating agencies. With the support of the NNI, nanotechnology R&D is taking place in academic, government, and industry laboratories across the United States.