For the first time, Fraunhofer IKTS shows additively manufactured hardmetal tools at WorldPM 2016 in Hamburg. Mechanical, chemical as well as a high heat resistance and extreme hardness are required from tools that are used in mechanical and automotive engineering or in plastics and building materials industry. Researchers at the Fraunhofer Institute for Ceramic Technologies and Systems IKTS in Dresden managed the production of complex hardmetal tools via 3D printing in a quality that are in no way inferior to conventionally produced high-performance tools.
Fraunhofer IKTS counts decades of proven expertise in the development of hardmetals. To date, reliable cutting, drilling, pressing and stamping tools made of tungsten carbide were manufactured by uniaxial or cold isostatic dry pressing, extrusion and injection molding as well as by shape cutting at Fraunhofer IKTS. In traditional tool manufacturing, complex geometries, such as helical or meandering cooling ducts inside the component, are still implemented at high cost or not at all.

Design flexibility by additive manufacturing

"Meanwhile, it is known that through resource-saving and tool-free 3D printing even complex, individualized ceramic geometries can be realized quickly", says Dr. Tassilo Moritz, group leader "Shaping" at Fraunhofer IKTS.

Now IKTS scientists also succeeded in producing complex hardmetal tools via 3D printing processes. The binder jetting method is used in this case. The starting powders or granules are locally wetted with an organic binder by a print head and bound. The challenge was to get one hundred percent dense components, which have a perfect carbide microstructure and thus good mechanical properties.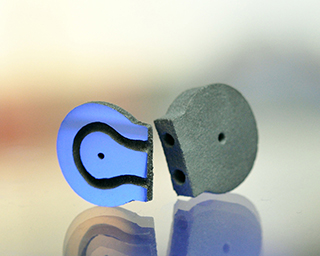 Wire die with integrated cooling duct in the raw state after sintering: at Fraunhofer IKTS in Dresden, hardmetal components are developed according to customer requirements via 3D binder jetting.

Hardmetals consist of a ceramic hard material, such as tungsten carbide, and a viscous binder matrix of cobalt and nickel or iron.

By selectively varying the binder matrix, flexural strength, toughness and hardness can be adjusted individually – the lower the proportion of binder in the carbide, the harder the component. The prototypes manufactured at Fraunhofer IKTS have a binder content of twelve and seventeen percent by weight and show a structure comparable to conventional routes. "Through the use of 3D printing for the production of complex green bodies and subsequent sintering under conventional sintering conditions, we achieve components with a typical hardmetal structure at one hundred percent density. Moreover, it is possible to set a homogeneous cobalt distribution achieving a comparable quality to conventionally produced high-performance tools," explains Johannes Pötschke, group leader "Hardmetals and Cermets" at Fraunhofer IKTS.

Fraunhofer IKTS supports manufacturers and users of hardmetal tools in the selection of appropriate materials and in product-specific development of 3D printing processes. For the first time, complex prototypes are presented at WorldPM 2016 from October 9 to 13 in Hamburg, Booth 85.
---
---