von Dienstag, 10. März 2015 - 09:00 Uhr
bis Freitag, 13. März 2015 - 17:30 Uhr

Bilbao (Spain) will host the 3rd edition of the largest European Event in Nanoscience & Nanotechnology, ImagineNano, from the 10th until the 13th of March 2015 at Bilbao Exhibition Centre (BEC).

Following the overwhelming success of ImagineNano 2013, several conferences will be held in parallel in a new infrastructure, as well as a vast exhibition, one-to-one meetings and an industrial forum where everyone can meet and greet Nanotechnology side by side.
ImagineNano will therefore gather the global nanotechnology community, including researchers, industry policymakers and investors.

There´s no doubt that ImagineNano is the right place to see and be seen.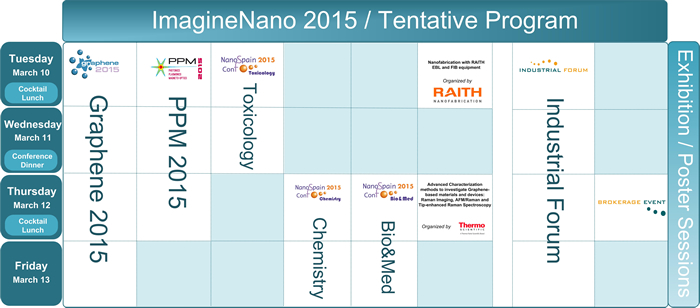 Tentative Registration opening hours (to collect badge and conference material):
March 09 from 15:00 to 19h00
March 10 from 08:00 and will remain open during conference hours
Conferences hours:
March 10 will start around 09:00.
March 13 will finish around 17:30.
 

 

VAT not included (21%) - Spanish VAT does not apply for participants outside Spain.

 

 

 

Invite your colleagues and register as a group.
The organizers offers group discounts to institutions that register 5 or more employees. To qualify, all participants in the group must be employed at the same institution. Please contact by email

Diese E-Mail-Adresse ist vor Spambots geschützt! Zur Anzeige muss JavaScript eingeschaltet sein!

.

 

     If you do need visa, the organization will be pleased to give you a letter of invitation to support your application.
     However the invitation letter will only be issued to speakers or attendees who already registered.
     The letter will be sent by email only.  Be aware that we won't be able to contact directly consulates and embassies.

     Contact: Diese E-Mail-Adresse ist vor Spambots geschützt! Zur Anzeige muss JavaScript eingeschaltet sein!

 
Further Info
Phantoms Foundation
Tel: +34 91 1402145
Diese E-Mail-Adresse ist vor Spambots geschützt! Zur Anzeige muss JavaScript eingeschaltet sein!
Science: Dr. Antonio Correia
Industry: Viviana Estêvão
Society: Dr. Maite Fernandez
Invoice request:
Diese E-Mail-Adresse ist vor Spambots geschützt! Zur Anzeige muss JavaScript eingeschaltet sein!
Visa request:
Diese E-Mail-Adresse ist vor Spambots geschützt! Zur Anzeige muss JavaScript eingeschaltet sein!
Das Programm für diese Veranstaltung ist hier noch nicht verfügbar. Bitte besuchen Sie die verlinkte Seite der Veranstaltung für Details.
Redner & und Teilnehmer sind hier noch nicht verfügbar.
Bilbao Exhibition Centre
Ronda de Azkue, 1
Barakaldo
48902
Bizkaia
Spain
Opened in 2004, the BEC (Bilbao Exhibición Centre) is a new concept as a business centre and trade fair complex for Bilbao, Bizkaia and the Basque Country. It is located in Barakaldo, just a few kilometres from the capital of Bizkaia, and has an exhibition area of 150,000 square metres distributed between six halls, with no columns. One of the halls, the Bizkaia Arena, can be used as the venue for events hosting up to 20,000 people. It also has other multi-purpose areas: BEC Convenciones, with 18,000 square metres distributed into different levels. The BEC was designed by the Idom and Sener engineering firms and involved an investment of 440 million euros.
The information and pictures provided have been found on http://bilbaoexhibitioncentre.com/.
Veranstaltungen
Zur Anmeldung für die Veranstaltung wenden Sie sich bitte über den Link direkt an den Veranstalter.